LYDIA EMMA KINTON PREVOST
LYDIA EMMA KINTON PREVOST was born on 17 February, 1848, at 100 St Martins Lane, St Martin in the Fields, London, her father being MARK PREVOST, a wig maker in the East End of London, and mother LYDIA EMMA PREVOST nee COURTICE.
Lydia was christened on 17 April, 1854, at St Martin in the Fields, Westminster, and had according to the records at least four brothers Mark Herbert Busswell Prevost, Alfred Courtice Prevost, Arthur Courtice Vilmet Prevost and Henri Eugene Somerset Prevost.
From these, her brothers' names, it is easy to see where her sons' names were derived.
Lydia was a true cockney, living in London within hearing of the Bow Bells of St Mary's.
Her family, the Prevosts, were Huguenots having been forced to flee France during the persecution of the Protestants during Louis' time.
Lydia came to Brisbane on the ship "Indus" leaving London on 10 April, 1872, arriving Brisbane 1 July, 1872, with 492 passengers. She was 23 years of age 5 ft 4 ins tall.
Lydia came to Australia to marry a man who came out from England previously. However, on arrival she found he had "eyes for another".
She was asked by her brothers to return to London; however, pride prevented her having come to Brisbane against her parents' wishes.
In London, Lydia was a governess; while in Brisbane she undertook housekeeping duties, eventually meeting Tom.
Lydia, a devout Anglican, read the Bible daily and attended Sunday Anglican Church services.
Following the death of Edith King, her youngest daughter, Lydia lived with the King family for eighteen months before moving on to live with Margaret ("Ellie") at 449 Milton Road, Auchenflower.
In the last years of her life she lived with her son Walter in Archer Street, Woodford where she had a stroke while bending down picking up a serviette at the dining room table and shortly after passed away.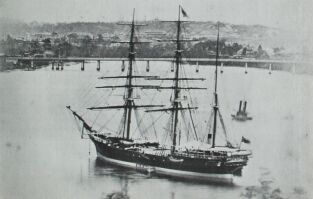 The "Indus" built 1847 – 1319 tons – originally a steamer converted to a sailing vessel made six voyages to Moreton Bay with immigrants between 1870 and 1876.
---
© 1993 Denver Beanland