THOMAS BEANLAND
THOMAS BEANLAND was born in Yorkshire England possibly in or near Leeds between 1841 and 1845, and arrived in Brisbane from Liverpool on 11 August 1862, on the sailing ship "Erin-go-Bragh".
Not much is known of Thomas' early life in the new colony; however, Tom, as he was known, met and married a Jane McGuire in St Stephens Church, Brisbane, on 26 May 1870. According to the marriage certificate they were both 27 years of age.
On 4 July, 1872, Jane Beanland died in childbirth, and the next day she and child were buried at Caboolture. It is believed that she is buried in that section of the current cemetery in one of the unmarked graves.
Tom met Lydia Emma Kinton Prevost and married her on 5 January, 1874, in the Primitive Methodist Church, Brisbane. According to the marriage certificate he was 32 and she 25 years of age.
Tom and Lydia after marriage lived in Caboolture prior to moving to Woodford.
Tom obtained two Land Orders, one dated 1862, the other 1864. On 13 September, 1873, he applied under Selection No. 1954 for Portion No. 86, Parish Canning, County Canning, containing an area of 100 acres. He sold this property on 13 June, 1882.
On 28 October, 1874, using the other Land Order he applied under Selection No. 2309 for Portion 81, Parish Canning, County Canning, containing an area of 39 acres 3 roods, adjacent to Portion 36. It does not appear that Tom actually purchased this properly but sold his Selection instead. These lands at Caboolture straddle the old Kilcoy Branch Rail Line and lie generally north of the current Caboolture Woodford Road.
On 22 October, 1878, Tom applied under Selection No. 5076 for Portion No. 76, Parish Durundur, County Canning, containing an area of 80 acres. Following this, on 4 November, 1881, he purchased under Selection No. 6151 Portion No. 111, Parish Durundur, County Canning, containing an area of 80 acres adjacent to Portion No. 76.
On 26 March, 1879, Tom, while living in Caboolture, wrote to the Minister for Lands asking that he be allowed to take up as soon as possible Portion No. 76 of Registered Plan No. 5076, Parish of Durundur, County Canning, which is an area of land between Cove Road and the Stanley River.
By 1882 Tom and Lydia had moved to Woodford and settled in their home on Portion No. 76 two of Woodford's first settlers.
In 1885 Tom built the Woodford Hotel at the lower end of town opposite the Post Office. On 9 October, 1889, he sold it, together with his two properties, to J. MacSweeney who carried on business there until the 1893 floods, when it was moved to higher ground.
The author can remember Herbert, his grandfather, telling stories of his swimming in the Stanley River during the 1893 flood that devastated much of the then township of Woodford, which led it to be relocated onto higher ground.
The Queensland Government Gazette on 2 February, 1885, announced the appointment of Tom as Pound-keeper, Woodford.
In the 1902 Morton State Electorate Roll Tom appears as a timber-getter, being enrolled on 21 November, 1901.
"The History and Adventures of a Queensland Pioneer" by Edgar Foreman JP, dated 1928, printed by Exchange Printing Co. Ltd, Queen St, Brisbane, refers to Tom Beanland and the Pine Rivers district as follows:
"Everything was done in Tom Petrie's paddock, which he kindly lent us for the day. The horses that took part in the racing were all grass fed and ridden by their owners, who were mostly bullock drivers. The highest prize, I think, was a buck jumping saddle and it was won by a bullock driver named Tom Beanland, on a chestnut mare."
Tom and Lydia supported the opening of the first school in Woodford. Both Herbert and Margaret Elizabeth were included in the list, when compiled on 14 May, 1881, of pupils who would be intending the proposed school. The Woodford School was opened on 23 October, 1882, and known as the Durundur Road Provisional School. The name was changed to Woodford in late 1884 or early 1885. On 6 June, 1885, a public meeting was held at Woodford at which Tom Beanland was elected as a member of the Building Committee.
The Register of the Woodford Primary School shows Herbert aged eight attending on 31 October, 1882, and Margaret Elizabeth attending on 22 January, 1893, aged seven.
After selling his two original properties in Woodford in 1889 Tom and Lydia acquired further properly in Archer Street, Woodford, where he lived until his death.
Tom passed away at the Kilcoy Hospital, Kilcoy on 30 August, 1923.
Tom spent much of his life as a timber-getter, while in his latter years he owned a barber's shop.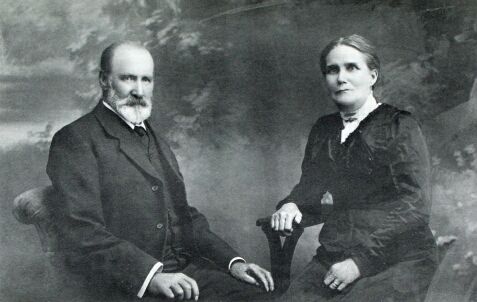 Tom and Lydia Kinton Beanland.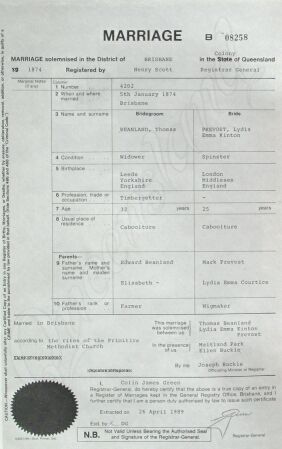 ---
© 1993 Denver Beanland